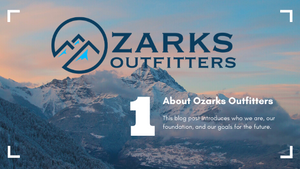 About Ozarks Outfitters
Welcome to Ozarks Outfitters! We would like to take this opportunity in our first blog post to introduce who we are, what we are founded upon, and our goals for the company as a whole. 
First and foremost, we are a homegrown brand founded by two like-minded individuals with the ultimate goal of inspiring and motivating individuals of all ages. We were founded in April of 2020 and have our eyes set on a very bright future. 
The name for the company did not come to us easily… We wanted our brand to have a name that symbolized strength, determination, and success. That is where the name "Ozarks" came to mind. We believe mountains symbolize the obstacles and hardships that arise throughout life and our brand is determined to help you overcome them. The rise to the top is never easy, but with a little motivation, you can achieve your dreams and become what you set out to be. 
Ozarks Outfitters is founded upon three simple but meaningful words; Escape The Ordinary. Too many times in life we get complacent with the routines and habits of everyday life and forget to take the time to really step out of our comfort zones and explore what life is like beyond what we know. We wanted our brand to exemplify this ideal and to truly represent what we believe in. As a new brand, we are dedicated to helping our supporters in any way that we can. 
Our goals for the brand are simple. We want to become one of the leading outdoor apparel brands while offering the best customer service possible. We also would like to update our blog weekly with company updates, fishing/hiking tips, motivation, etc. We would love feedback from our supporters on what we should discuss/write about in our upcoming blogs. If you have any suggestions for us, you can reach us on our email or social media which will be linked below. 
Instagram: @ozarksoutfitters Facebook: @ozarksoutfitters Youtube: woodsfishing
---