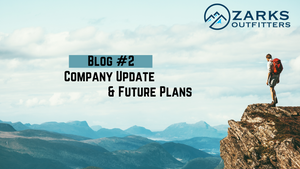 Company Update & Future Plans
Welcome to Blog Post #2!
First and foremost, we would like to sincerely thank each and every one of you who have supported us in any way thus far. Whether that be through purchasing items, following us on social media, or even spreading the word to friends and family about us. The support we have received so far has been tremendous and means more than you know to the team here at Ozarks Outfitters. 
During the month of June, we were able to add over 50 individuals to our Pro Staff team, an exclusive group of members that receive perks and benefits based on their performance with us. Each and every member of our Pro Staff team is very important to us, and we keep in daily contact with each member via social media and email. We are grateful for the amount of people that expressed interest in joining our program and welcome anyone who wants to join a growing company such as ours! 
To show our gratitude and appreciation to our members, we have decided to create a "Pro Staff Member of the Month" challenge in which the member that we feel did the best job of promoting our company and showing their support will receive a free item of their choice. With that being said, the Pro Staff Member of the Month for June is Tyrone Adams Jr (@bassandfurious). Tyrone has shown us an immense amount of support from the beginning and is one of our most loyal customers to date. He routinely gives us his personal advice on how he thinks we can continue to grow the company which is very important to us. Please go show some love to our guy Tyrone and make sure he knows how much you appreciate him! 
We are super stoked for the month of July and what lies ahead. We are releasing three new items, including a performance fishing shirt, a t-shirt, and an American flag themed hat in celebration of Independence Day! These items will be available for Pre-order on July 4th. 

Once again, we would like to thank everyone who has shown us love so far and we can't wait to see what the future holds for us. Stay tuned every month for merch drops and giveaways which will be announced through our social media and through email. We hope everyone has an amazing month of july and we hope you continue to ESCAPE THE ORDINARY.
*Tyrone Adams Jr pictured catching a fish while sporting the logo hat*
---